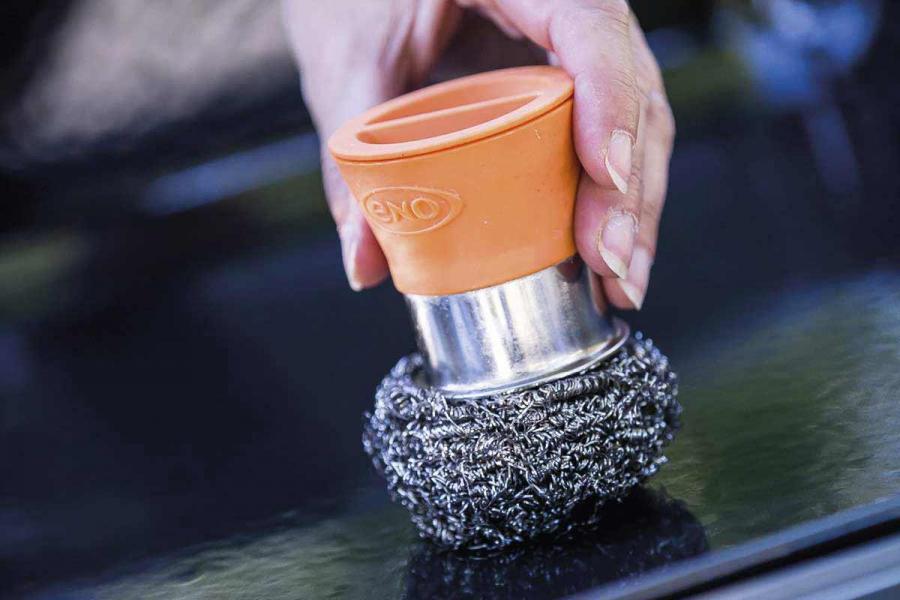 Take care of your ENO gas or electric* plancha to ensure it lasts a long time and to be able to enjoy having a clean, tidy work area every time you use it.
Cleaning the ENO plancha is quick and easy. Here are a few handy cleaning tips.
To cook different foods
Preheat the plate as hot as possible and, using the holder, clean it with the stainless steel scourer. Remove any remnants and wipe down with an absorbent cloth. The ENO plancha is ready for the next course.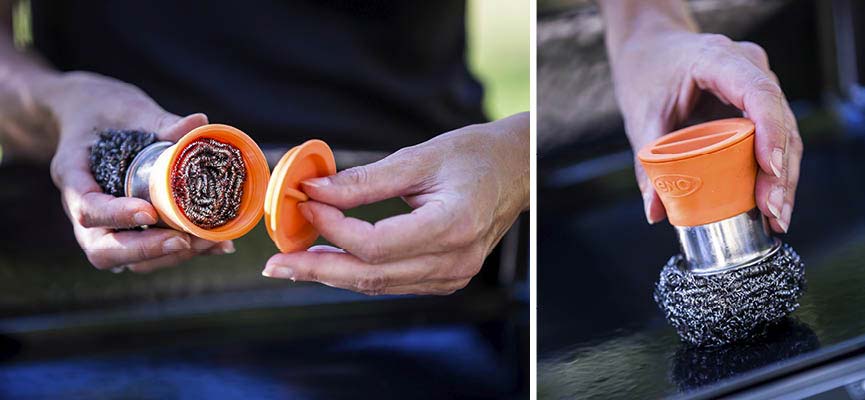 Cleaning when you're done cooking
While the plate is still hot, deglaze the surface with a dash of water and scrape it clean with the short spatula. Repeat until water runs clear.
Let the plancha cool down and use the stainless steel scourer to apply plancha cleaner. Wipe the surface down with a damp sponge and the microfibre cloth. The plancha will look as good as new!
To avoid any unpleasant surprises the next time you use it, don't forget to empty out and wash the drip tray. Remember, it's dishwasher safe!
Accessories to clean the plancha
How to clean your plancha video :
Taking care of your plancha
Here are a few tips to ensure your plancha is always clean and in good condition.
Protect it: We recommend protecting your plancha and cart from dirt and the weather with a pr otective plancha cover or lid.
Cleaning the casing : To thoroughly clean your plancha, you can remove the plate from the casing and clean the inside of the stainless steel or galvanized steel casing with a soft microfibre cloth.
Removing the battery : before you store your plancha for the winter, we recommend that you remove the battery from the battery box, which is used to ignite your gas plancha's burners.
If you can't light your gas plancha after a few months of storage, but you can hear and/or smell the gas coming through, there may be a spider web or insect cocoon near the burner. Check to make sure nothing is blocking the gas, particularly between the injector (device that directs the gas to the burner) and the burner. If need be, clean off any residue.
*Only available on the European market
2020-06-05 08:00:00
0 viewed